2021 is over at last, thank goodness
friday, january 14
th

, 2022
What an awful year this was. I sincerely hope the coming year is better. Here are a few loose ends that need clearing up as that dreadful year drops off into memory.
The first priority is to hold public health authorities responsible for the mess they made. Professor Glenn Reynolds has my vote for holding them accountable. They lied to us, manipulated us for political purposes, and completely betrayed our trust. He summarizes their acts and argues: "It's time for a rigorous investigation -- perhaps a Truth and Reconciliation Commission with subpoena power -- to get to the bottom of how our public health authorities have mismanaged this pandemic. There's certainly no chance that the existing establishment will do so."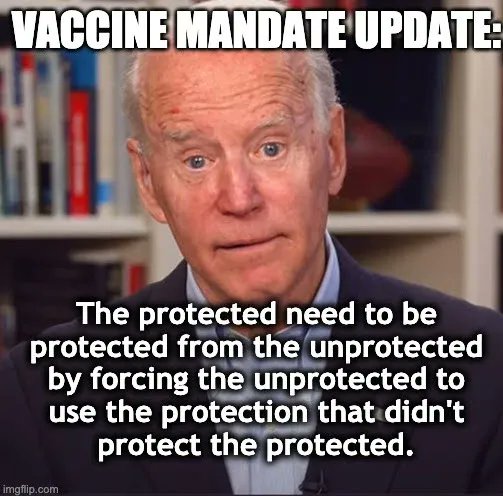 Sheryl Attkisson offers a more complete 57-count indictment of our public health officials' conduct, concluding that they depended completely on vaccination which has proven a "total failure" as a record number of people were vaccinated, a "record number have gotten Covid."
Here's her damning list in its entirety because I need to remind you of how substantially they abused our trust:
1. Funded dangerous Gain of Function research with our adversary, China, using US taxpayer money, in order to create vaccines and other medicine

2. Denied such funding had occurred

3. Claimed the lab theory was debunked when it hadn't been investigated

4. Allowed China not to cooperate with the pandemic investigation; never imposed serious sanctions or repercussions for the non-cooperation

5. Failed to disclose their own role in Gain of Function research while publicly "debunking" U.S. involvement in it

6. Conspired to have public officials make statements and publish papers claiming the lab theory had been debunked, when it hadn't been

7. Encouraged the censorship of factual information on the news and the Internet

8. Claimed would take years for a the first Covid-19 vaccine to be released

9. Conspired to controversialize scientists, researchers, and journalists who tell the truth about various aspects of Covid and the vaccines

10. Falsely claimed certain gatherings, such as the Sturgis Motorcycle Rally, were "super spreader" events, when they were not

11. Distorted and exaggerated statistics to make it appear as though people were infected at events when they were not

12. Sent Covid-infected elderly from hospitals to nursing homes where they mass-infected other vulnerable residents

13. Said masks don't work

14. Said masks do work

15. Required wearing of masks

16. Recommended wearing of more than one mask

17. Failed to wear masks themselves, when required

18. Said kids don't need masks

19. Said kids must mask

20. Said kids don't need to get vaccinated because their risk is so small

21. Said kids must be vaccinated because their risk is so great

22. Told people to isolate at home, even though that's how most Covid cases are spread

23. Closed parks, beaches and outdoor venues even though Covid is rarely, if ever, transmitted outside

24. Arrested people for being outside, unmasked, even though they were among the safest population

25. Falsely claimed that early vaccine studies showed that those with natural immunity from prior infection benefit from vaccination

26. Covered up estimate of number of naturally-immune for many months

27. Closed schools, against the advice of many scientists, distorting education for a generation of students

28. Conspired to censor scientists, reporters and others who report factually on Covid therapeutics, vaccine issues.

29. Overcounted Covid cases and deaths by counting people "with" Covid but who were not sick from Covid

30. Shut down and destroyed the economy without improving Covid situation

31. Caused the firing of people who cannot get or choose not to get vaccinated, even though they may have natural immunity or medical conditions that prevent them from taking vaccine risks

32. Blanket-recommended vaccination for people who are at high risk of adverse events such as heart inflammation and blood clots

33. Falsely claimed vaccines prevent Covid infection

34. Falsely claimed vaccines prevent Covid spread

35. Falsely claimed vaccinated do not get sick with Covid

36. Falsely claimed vaccinated do not get hospitalized or die of Covid

37. Claimed that the vaccinated who get ill with Covid would be sicker if not vaccinated, when there is no evidence that is the case with any individual

38. Failed to provide informed consent and warn of Covid-19 vaccine side effects prior to administration

39. Claimed vaccines are highly effective

40. Claimed vaccines worked well against variants

41. Recommended up to 4 shots in one year because of vaccine ineffectiveness, while claiming vaccines are highly effective

42. Ignored the power of natural immunity, and the hundreds of studies supporting it

43. Punished medical doctors who prescribe therapeutics

44. Punished scientists who researched therapeutics

45. Use the power and size of the federal government to bully and threaten companies into requiring vaccination despite their ineffectiveness in preventing Covid infection or spread

46. Failed to promote effective therapeutics, which can save lives

47. Withheld and prevented treatment and resources, based on political calculations

48. Downplayed vaccine adverse events

49. Ignored pleas from vaccine-injured to investigate and publicize their cases to prevent other injuries

50. Exaggerated serious risks from Covid-19

51. Impacted military readiness by firing those who cannot or choose not to get Covid-19 vaccine, even if naturally immune

52. Impacted health care system capacity by firing those who cannot or choose not to get Covid-19 vaccine, even if naturally immune

53. Impacted first responder industry by firing those who cannot or choose not to get Covid-19 vaccine, even if naturally immune

54. Impacted education system by firing educators who cannot or choose not to get Covid-19 vaccine, even if naturally immune

55. Recommended vaccination for healthy children and others at near zero risk of serious impact from Covid-19 illness

56. Failed to discuss potential role of vitamins, sunshine, exercise, weight control, and healthy diet

57. Mislabeled Covid-19 a "pandemic of the unvaccinated," in a failed propaganda campaign
I need to remind you because every day, in every way -- including all the advice columns their readers rely on -- these failures are ignored and families told things like it's a good idea to ban the unvaccinated from family gatherings and that people who refuse them are selfish and putting their children's lives at risk. I cannot recall this country ever falling under such fact-free mass hysteria.
Remember, the Democratic Party, ISN'T.
And if you still harbor any doubt after the CDC okayed the George Floyd demonstrations that its proscriptions were political, new evidence was unearthed a few weeks ago, showing that the White House, Department of Health and Human Services. and the Centers for Disease Control were guided less by science than politics on school reopening guidelines. The rules were dictated not by science, but on a political decision to follow the teachers unions' desires.
Speaking of losing the public trust, the Jeffrey Epstein case and his death murder while in custody engendered a lot of deserved skepticism. This week's conviction of his gal pal Ghislaine Maxwell still leaves a lot of unanswered questions, apart from the big ones: How did he really die and how on earth did he amass so much money with so little experience?
Professor Alan Dershowitz asks why did Maxwell's chief accuser Virginia Giuffre avoid being charged with the same "grooming" charge Maxwell was when the government's own witness accused her under oath of such conduct? Why, in fact, was she never even called as a witness in the Maxwell trial? There are some substantial reasons to believe that she is not credible, and her accusations against prominent people are false -- something her lawyers concede. He concluded "The truth will come out. And it may surprise you."
You may recall that the two jail guards on duty the night Epstein died were charged with -- sleeping on the job (dereliction of duty) and falsifying records -- something that if Epstein did commit suicide would result only in loss of jobs and maybe a fine, says Jazz Shaw. Instead, they faced criminal charges which the prosecution dropped on December 13, an act that did not appear on the court's docket until last week, one day after Maxwell was convicted. Maybe they fully cooperated and the prosecution held the news until after the conviction because they felt it was safer to do so. On the other hand, if Maxwell doubts Epstein killed himself and at least one of the guards must have known about it, you might conclude the dropping of the cases against them is a good reason for her not to spill any beans, something post-conviction she might be inclined to do in exchange for a lesser sentence.
Finally, there's the administration's practice of using private agencies to command unconstitutional acts they could not get away with doing on their own. And there's a growing counteraction against these overreaching mandates. NASDAQ urged all companies on its exchange to have at least two diversity hires on their board of directors: One who self-identifies as female and one who "self-identifies as an underrepresented minority or LGBTQ+" and if they do not comply, the companies must explain why they deviated from this standard. The government approved this diversity rule in August. As a stockholder or employee of a NASDAQ corporation would attest, their welfare and returns depend on the most qualified persons serving on the board. As a civil libertarian, I contend all quotas of this nature violate the Constitution. Several GOP governors agree and filed a legal brief supporting a case in the Fifth Circuit which contends the rule "violates both the Constitution and exceeds the SEC and NASDAQ statutory authority."
Stay on your toes this year. As it's increasingly likely the Democrats are in deep doo-doo in the coming midterm elections, every trick in the book will be utilized to get through their blinkered policies and programs any way possible before the deluge.
© January 2, 2022 by Clarice Feldman, American Thinker.
[JS: The author misses the greatest point that the FedGov is tasked with, in the US Constitution: PROTECT THE NATION'S BORDERS! Without borders, we are NOT a Nation.]
A Day In The Life.
Up at 10a on Friday, I went thru my finger stick to check my BSL (Blood Sugar Level) and recorded it on my Diabetes 2 chart, made coffee and breakfast, had a couple smokes in the semi-cool garage and checked the leftover errands list. It was only 26°, and we got 3-6" of snow, depending on where a measurement is made. I listened to the "Chris Plante Show" until noon, and noticed thru my office-sunroom's snow-laden windows, that it was blowing and drifting all over the place. No errands to do, so no reason to go out.
After lunch, I called Sherry to talk about next week, and doing some walking at the York Galleria. After the call ended, I went back to paperwork, filing and some computer maintenance. Before I realized it, it was dark and I shut down the condo, dropped the heat to 72°, made Grilled Proscuitto, Asparagus & Cheese for dinner, watched Discovery's "Gold Rush" series until 11p, and quit for the night.
I slept-in until 9:45a on Saturday, and woke to a sunny, cold 24° morning, turned-up the heat in the condo, garage and office-sunroom. I checked the news and weather, and found this:
---

Winter Weather Advisory
Sunday, January 9, 5:00 AM EST
To
Sunday, January 9, 12:00 PM EST
Source: U.S. National Weather Service, State College, PA.
WINTER WEATHER ADVISORY IN EFFECT FROM 5 AM TO NOON EST SUNDAY:
• WHAT: A brief period of mixed precipitation, changing to freezing rain. Total snow and sleet accumulation of less than one inch and ice accumulations of up to one tenth of an inch.
• WHERE: Portions of central Pennsylvania.
• WHEN: From 5 AM to noon EST Sunday.
• IMPACTS• Plan on slippery road conditions.
PRECAUTIONARY/PREPAREDNESS ACTIONS:
The Pennsylvania Department of Transportation and Pennsylvania Turnpike Commission remind motorists to adjust speeds based on driving conditions as winter weather impacts Pennsylvania roadways.


---
Hey, it's Winter!
On January 15th, 31,000 truckers from Canada and in the US, will lose their jobs and ability (truckers must show a proof of vaccine to cross the border points) to move goods across US-Canada borders, and the supply disruption brought about by Lunch Bucket Joe Bidet, will become severe and worse than it is now, at the shipping ports. Get ready; it's coming.
Some men improve the Earth by their presence, and others by their absence.
After doing a couple errands, I watched MotorTrend's "Iron Resurrection" and History's "American Pickers" all day, had a Tomato Sandwich on Toasted Rye for dinner, and went back to "AP" for a new episode, at 9p. I watched FNC's "Watters World" until 11p, and called it a night. By then, temps had dropped to 19°. Freezing rain/sleet and snow are coming tomorrow.
Up at 8:30a on Sunday, the freezing rain, sleet/ice and light snow were already here, per last night's warning. At 31°, I fired-up the furnace, garage and office-sunroom auxiliary heaters, made coffee, and had a croissant & blueberry marmalade, for breakfast. Looks like a cold week here in the Mid-Atlantic.
Please, for the love of God and all things Arnold Palmer, watch this video. Even if you only do one thing productive today. Amazing. Can you believe that this was performed 19 years ago?
After a large dinner of Chicken & Dumplings, I watched "Counting Cars", "Frozen Gold", "Expedition Unknown" and a Fox News show, until 11p, and unplugged. Many errands to get caught up on, since the weekend Ice Storm.
Up at 8:15a on Monday, it was a very cold 24° and sunny start to the day. I heard the 2 garbage trucks come thru – Monday is our new p/u day – fired-up the condo furnace, garage and office-sunroom heaters, made coffee, did the finger stick, and had a couple smokes in the cold garage. I checked the weather and news. I had a boatload of errands to get done, from last Friday thru today, and left at 11a.
The left believes the Right's free speech is violence; they also believe their violence is free speech.
Back at 2p, I unloaded, had lunch, got some condo chores done, and should have moved the Jeep into the garage and opened the hood to flood the garage with heat from the massive HEMI V8; I didn't and temps started dropping from the day's high of 28°, down to 20° by 5p. We've got some bitter cold coming. After dinner, I watched History's "Ancient Aliens" until 11p, and switched-over to Fox for "Gutfeld"; then quit for the night.
Mikey & Nancy
Awake at 8:30a on Tuesday, to a bright, sunny, bitter cold 18° morning, I turned-up the condo heat, fired-up the oscillating heaters in the garage and my office-sunroom, did the finger stick to check my BSL, made coffee, had 2 smokes in the ice cold garage, had breakfast and checked the weather and news. Did you see that Michael Jackson is alive and well, and doing Nancy Pelosi's news conferences? Have a look.
I started working on my office-sunroom's HP Computer's external WD 1TB drive (H:/), since I noticed it was 97% full. I off-loaded a massive amount of folders and files back on to the C:/ drive, and ordered another Western Digital My Book Essential 1 Terabyte (1TB) USB 2.0 3.5" External Hard Drive, from Amazon. 1TB (terrabyte = TRILLION BYTES) is a LOT of data and space, but over the past 3yrs, I done a lot of back-ups and data transfers to this drive, and now it's time for another, and for some of the H:/'s folders and data to be transferred to continue to use it.
It takes a long time to transfer, vis USB wire, such large amounts of data, and between watching some TV, having dinner, I worked on segments of it, all day and into the evening. By 11p, temps had dropped to a bitter cold 17°, and I was ready to quit the computer work for the night – and pick it back up after a morning Dr's app't and some food shopping – as my eyes were getting tired. Time to unplug at midnight.
If you put the government in charge of the Sahara Desert, in five years there'd be a shortage of sand.
Up at 7:45a on Wednesday, it was a sunny, clear, and very cold 20° start to the day. I did the usual morning heat routines, made coffee and breakfast, had a couple smokes in the cold garage, and checked the weather and news. Inflation is officially now at 7%, in just one year, thanks to Joey Bidet and the demonKKKrats. That means if you had $100,000 in cash, you now have $93,000 left in spending power. Nice, huh?
Amazingly, Monty Python's 42 yrs old Prediction of Nowadays Insane Public Discourse, holds true today. Prophetic, wasn't it?
I went to my 11a Dr's app't, and the waiting room was packed. I was finished by 11:45, and drove to Weis Market, with a long list of groceries needed, and got almost all of it. No real empty shelves – except for the produce area and OJ/juice coolers – but none of any items were 10 deep; mainly 5-6 deep and spread out. Home by 12:45p, I unloaded, had a Ham Salad Sandwich & Chips, and continued unloading folders/files from H:/ drive back onto C:/ drive. Temps got up to 40°, which is warm for this time of year, but more bitter cold, ice and snow is coming over the weekend. While the computer was doing the assigned tasks, I watched MotorTrend's "Mecum Auto Auctions", since it was another "NBC Day" (Nothing But Crap).
After some Beef Stew Over Noodles for dinner, I continued the draw-down of H:/ drive, while watching Fox News shows until midnight, and closed down.
Up at 7:30a on Thursday, it was a partly sunny, cold 24°, so I did the usual heat, coffee and smoke routines. I listened to the "Chris Plante Show" until noon, waiting for Rite Aid to call with some (3) ready Rxs and continued off-loading data from the H:/ drive, until the new unit arrives next week. By 6p, I decided to make several Fresh Atlantic Salmon Pinwheel With Lobster Stuffing for dinner, and kept the computer data transfer going. I watched so much TV in between data transfers, I can't remember WHAT until "Tucker" came on, and then the rest of the Fox News shows, until midnight. i have a Drs app't at 10a, tomorrow.
On a personal note, I have watched the incompetent duo of Biden and Harris screw-up America, for almost a year, and it's sad to watch Biden degenerate into senility and dementia, in front of the Nation's and World's eyes. Harris is a non-starter, and was chosen for her gender and color, but didn't get a single vote in the demonKKKratic run-off. But Biden is just sad, and being handled by his socialist, communist, fascist, Marxist left-wing staff. He's a sad puppet of the vicious left. I'm glad he and they have failed in everything they've done so far, but their failure has become our misery, with wide open borders, runaway inflation, non-sensical medical mandates, and so much more, that I don't have enough space to list them. America will somehow survive all this leftist BS, until Trump announces he's running again in 2024. He'll fix this mess, and it'll take 4 years just to get us back to where we were in 2020. Hang in there, FRiends.
Taxation With Representation.
And it's still not enough:
Personal/Consumer Taxes & Fees
Federal income tax
State income tax
Local income tax
Employee social security tax (your employer pays the other half)
Employee Medicare tax (your employer pays the other half)
Property taxes
Road toll charges
State sales tax
Driver's license renewal fee
TV Cable/Satellite fees & taxes
Federal telephone surtax, excise tax, and universal surcharge
State telephone excise tax and surcharge
Telephone minimum usage and recurring/nonrecurring charges tax
Gas/electric bill fees & taxes
Water/sewer fees & taxes
Cigarette tax
Alcohol tax
Federal gasoline tax
State gasoline tax
Local gasoline tax
Federal inheritance tax
State inheritance tax
Gift tax
Bridge toll charges
Marriage license
Hunting license
Fishing license
Bike license fee
Dog permit/license
State park permit
Watercraft registration & licensing fees
Sports stadium tax
Bike/nature trail permit
Court case filing fee
Retirement account early withdrawal penalty
Individual health insurance mandate tax
Hotel stay tax
Plastic surgery surcharge
Soda/fatty-food tax
Air transportation tax
Electronic transmission of tax return fees
Passport application/renewal fee
Luxury & gas-guzzler car taxes
New car surcharge
License plate and car ownership transfer taxes
Yacht and luxury boat taxes
Jewelry taxes & surcharges
State/local school tax
Recreational vehicle tax
Special assessments for road repairs or construction
Gun ownership permit
Kiddie tax (IRS form 8615)
Fuel gross receipts tax
Waste Management tax
Oil and gas assessment tax
Use taxes (on out-of-state purchase)
IRA rollover tax/withdrawal penalties
Tax on non-qualified health saving account distributions
Individual and small business surtax (page 336 of Obamacare)
Estimated income tax underpayment penalty
Alternative Minimum Tax on income
Business Taxes & Fees
Federal corporate income tax
State corporate income tax
Tax registration fee for new businesses
Employer social security tax
Employer Medicare tax
Federal unemployment tax
State unemployment tax
Business registration renewal tax
Worker's compensation tax
Tax on imported/exported goods
Oil storage/inspection fees
Employer health insurance mandate tax
Excise Tax on Charitable Hospitals (page 2001/Sec. 9007 of Obamacare)
Tax on Innovator Drug Companies (Page 2010/Sec. 9008 of Obamacare)
Tax on Medical Device Manufacturers (Page 2020/Sec. 9009 of Obamacare)
Tax on Health Insurers (Page 2026/Sec. 9010 of Obamacare)
Excise Tax on Comprehensive Health Insurance Plans, i.e. "Cadillac" plans
Tax on indoor tanning services
Utility users tax
Internet transaction fee (passed in California; being considered in other states and at federal level)
Professional license fee (accountants, lawyers, barbers, dentists, plumbers, etc.)
Franchise business tax
Tourism and concession license fee
Wiring inspection fees
Household employment tax
Biodiesel fuel tax
FDIC tax (insurance premium on bank deposits)
Electronic waste recycling fee
Hazardous material disposal fee
Food & beverage license fee
Estimated income tax underpayment penalty
Building/construction permit
Zoning permit
Fire inspection fee
Well permit tax
Sales and Use tax seller's permit
Commercial driver's license fee
Bank ATM transaction tax
Occupation taxes and fees (annual charges required for a host of professions)
[H/T to ppc for anonymous email.]
DAY #358 of the BIDEN MISERY INDEX
The Lunch Bucket JOEY BIDET MISERY INDEX...
PRESS CONFERENCES…....EPIC FAIL
JEN PSAKI.........EPIC FAIL
AFGHANISTAN……………….EPIC FAIL
ECONOMY ……………………EPIC FAIL
IMMIGRATION………………..EPIC FAIL
SOUTHERN BORDER………EPIC FAIL
CRIME…………………………EPIC FAIL
GASOLINE…………………….EPIC FAIL
COVID-19………………………EPIC FAIL
RACE RELATIONS……………EPIC FAIL
INFLATION……………………..EPIC FAIL
ENERGY PRODUCTION….....EPIC FAIL
FOREIGN AFFAIRS…………..EPIC FAIL
FATHERHOOD…………………EPIC FAIL
TRANSPARENCY……………..EPIC FAIL
INFRASTRUCTURE………….EPIC FAIL
UNITY………………………….EPIC FAIL
TRANSPORTATION………….EPIC FAIL
KAMALA………………………EPIC FAIL
SCHOOLS……………………..EPIC FAIL
SUPPLY CHAIN………………..EPIC FAIL
TRANS ADMIRAL…………….EPIC FAIL
US BORDERS…………………EPIC FAIL
MILITARY………………………EPIC FAIL
CNN TOWNHALL…………….EPIC FAIL
CLIMATE TRIP...........EPIC FAIL
DELAWARE DIAPERS......EPIC FAIL
JOE'S APPROVAL........EPIC FAIL
RIGHT & WRONG.........EPIC FAIL
KYLE TRIAL.........EPIC FAIL
RUSSIA..........EPIC FAIL
CHINA.............EPIC FAIL
MAYFIELD, KENTUCKY.........EPIC FAIL
BUILD BACK BETTER...........EPIC FAIL
2021.....................EPIC FAIL
JANUARY 6 SPEECH.............EPIC FAIL
CIVIL RIGHTS LEADER..........EPIC FAIL
[H/T to Dave for anonymous email.]